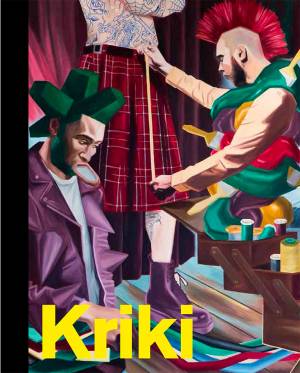 KRIKI
Suzanne Tarasieve Paris
2021, FR & ENG
Catalog published on the occasion of the exhibition
'Mediase' (17 October – 30 December 2020)
at Galerie Suzanne Tarasieve, Paris
Text by Richard Leydier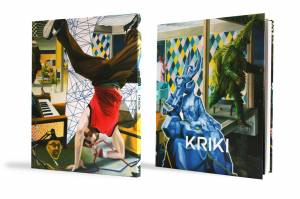 Kriki
DE PAEPE EDITIONS
2013, FR
Avec la sculpture « Katielo », un événement se produit, Kriki crée du spectaculaire ! D'emblée, cette oeuvre monumentale, spécialement conçue et réalisée pour la Collégiale de Chartres force le dialogue avec ce lieu historique. Il est rare de retrouver chez des artistes de la génération de Kriki, des sculptures aussi impressionnantes présentées à un large public. Voilà pourquoi la complicité avec l'histoire de cette Collégiale n'en demeure pas moins un débat forcé avec l'histoire de l'art contemporain français ! « Katielo », nom issu de la cosmogonie Sénoufo – ethnie du Mali, signifie la divinité-maternité consacrée de la forêt. Son message est inséparablement théologique et anthropologique. A savoir aussi qu'à la source de la conceptualisation de cette sculpture, la cosmogonie des Sénoufos est ignorée de Kriki qui, lui, à ce moment-là, cherche à radicaliser son idée-force de masques africains dont le bois se met à repousser.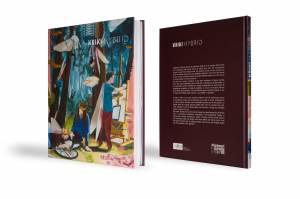 KRIKI
2018, FR & ENG
Text by Philippe Piguet / Critic of art and independant curator
KRIKI, PAINTING OR THE POSSIBILITY OF THE FIGURABLE (extract)
Where Kriki's art take on all its meaning, is precisely in this capacity the artist has for bringing things together. Whilst he draws here and there on the twists and turns of his own experience and culture, the iconographic elements that give form to the work he has in mind, the painting phase charges the creative act with a determining link to the spawning of meaning. From local to global, in some way, Kriki's painting acts as a catalyser for his thoughts. Like a musician or writer, notes serving one, words the other, by combining them together to express the depth and fullness of their feelings and their vision, painting is the vector through which Kriki expresses his place in the world. With complete integrity. Because, as Louise Bourgeois so rightly put it, "art is a guaranty of sanity," Kriki's work is capable of guaranteeing a crit- ical way of looking, without depriving the gaze of pure aesthetic pleasure.
Philippe Piguet